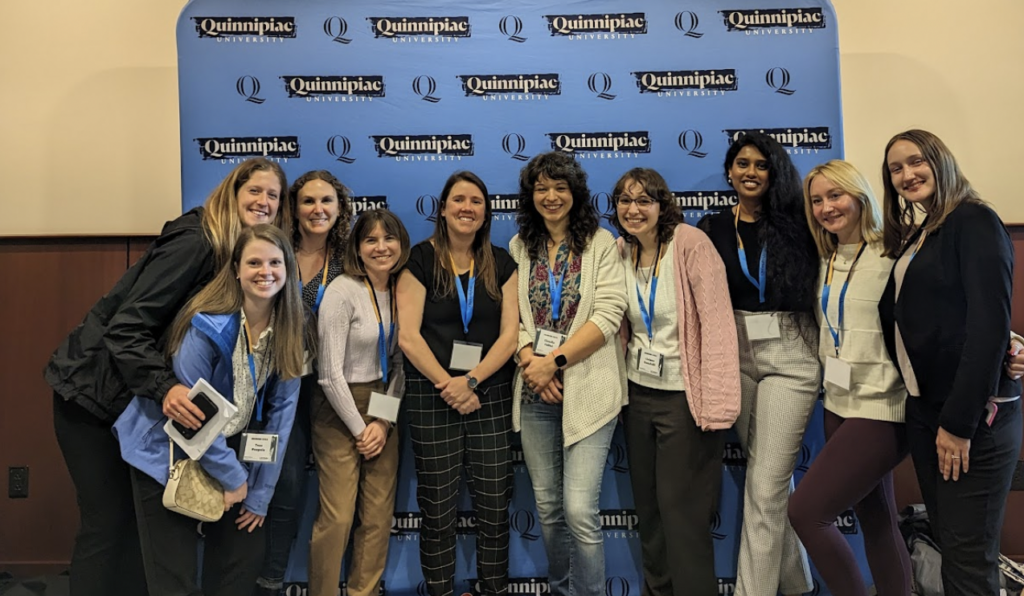 April 27, 2023
URI neuroscience graduate students Emily Potts and Michelle Gregoire received awards at the Neuron 2023 research conference at Quinnipiac University's Frank H. Netter MD School of Medicine on Sunday, April 23. The event was co-sponsored by the University of Connecticut.
Students from the labs of Ryan Institute assistant professors Claudia Fallini and Jaime Ross participated at the conference, which drew undergraduates, graduate students, and faculty from institutions around the Northeast region for poster sessions, workshops, and professional development in neuroscience, biopsychology, and related areas.
See more details after the gallery below.
Pictured from left to right, beginning at the top: Tess Puopolo, Alex Burns, Alicia Collins, Bhavya Chattragada, Emily Potts, Liviana Donatelli, Michelle Gregoire, and Sydney Bartman.
Michelle Gregoire was awarded Outstanding Graduate Poster for "Nuclear Pore Complex Injury and Transcription Alterations Drive Pathology in ALS/FTD C90RF72 Mutant iPSC Derived Cortical Neurons." Co-authors included Liviania Donatelli, Alex Burns, Serena Santangelo, Riccardo Sirtori, and URI Assistant Professor Claudia Fallini.
Emily Potts was awarded Best Graduate Data Blitz Talk. She also presented her poster, "Determining the Connection Between Stroke and Alzheimer's Disease in iPSC-Derived Cortical Neurons," co-authored by Bhavya Chatragadda and Dr. Fallini.