Join us as we celebrate Brain Week Rhode Island (March 9 – 17) with two great events: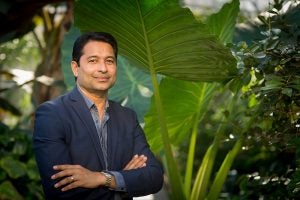 Superfoods for a Healthy Gut and Brain
Thursday, March 14 • 5:30 p.m.
Beaupre Center for Chemical & Forensic Sciences, Room 100
Free and open to the public. No registration required. Nearby parking is in Beaupre lot (13).
How does what you eat affect your brain? URI College of Pharmacy Professor and Ryan Research Professor of Neuroscience Navindra Seeram gives a fascinating crash course on the plant-based foods that impact your overall brain health, and explains how the right foods can help balance your gut (a.k.a. "second brain") to give you the most nutritional bang for your buck.
URI Brain Fair
Saturday, March 16 • 10 a.m. – 2 p.m.
Avedisian Hall (Pharmacy) + Center for Biotechnology and Life Sciences
URI Kingston Campus
Our free, fun-for-all-ages, third annual URI Brain Fair features nearly 30 interactive exhibits, inspiring talks, and special guests. See the full schedule and find tickets here.