BIOTECH
License Acquisition Supports MindImmune Research
JUNE 2018
Biotech startup MindImmune moves forward on two new research programs.
IN APRIL, DRUG DISCOVERY FIRM MindImmune Therapeutics, Inc., a biotech startup based at URI in affiliation with the Ryan Institute, acquired licenses for two preclinical research programs from H. Lundbeck A/S, a global pharmaceutical company headquartered in Denmark.
The two research programs include a first-in-kind drug to treat Huntington's Disease and a non-opioid painkiller for neuropathic pain. Both are a continuation of research that was begun by members of the MindImmune team in previous roles at Lundbeck.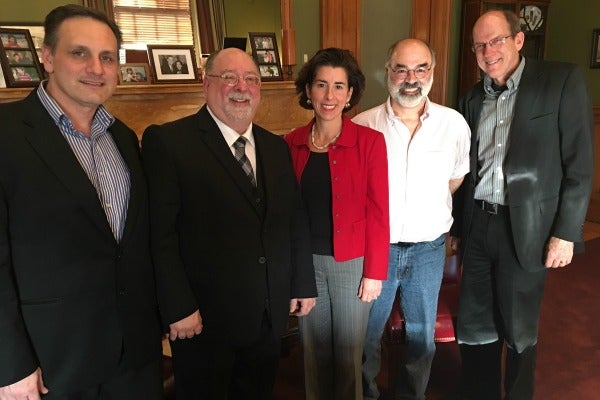 A genetic brain disease, Huntington's has few treatment options other than partial management of symptoms. MindImmune seeks to develop a brain-penetrable KMO inhibitor, designed to block the KMO enzyme that plays a key role in the progression of the disease. Its brain-penetrant capability is an important innovation; while there is evidence to support KMO inhibitors as a potential therapeutic in Huntington's and other neurodegenerative diseases, none currently exist that can directly target the brain.
The licensing acquisition also allows the MindImmune team to move forward on the development of non-opioid analgesics to treat neuropathic pain. The current epidemic of opioid abuse, which has led to crisis levels of overdose deaths, has raised an urgent need for non-addictive painkillers.
"MindImmune is pleased to have recently completed acquisition of two research programs from Lundbeck. This makes the second deal with a major pharmaceutical company in 2018 and positions us well for future investment and growth opportunities in Rhode Island," said Brian Campbell, vice president of pharmacology for MindImmune. "We are excited to be part of the burgeoning neuroscience community at URI and particularly by our close relationship with the Ryan Institute and its faculty members."
Earlier this year, MindImmune was one of the first companies to receive funding from Pfizer as part of a $150 million venture portfolio newly created to invest in neuroscience startups. The funding supports MindImmune's research into the role of peripheral immune cells in neurodegenerative disease.
<<back to="" news="" &="" features