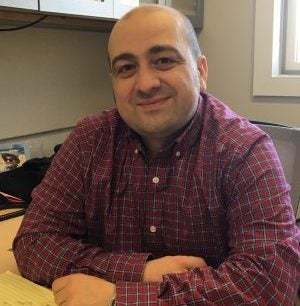 Research Assistant Professor, Biomedical/Pharm Sciences
Ryan Research Assistant Professor of Neuroscience
Phone: 401-874-9280
Email: gcoppotelli@uri.edu
Biography
Giuseppe Coppotelli, Ph.D. investigates the underlying molecular mechanisms of the aging process and its role in the development of neurodegenerative disease. As part of the Ross Lab, he is particularly focused on the contribution and interconnectedness of protein homeostasis deregulation and mitochondrial dysfunction in the aging brain and how these might translate to chronic inflammation and contribute to dementias such as Alzheimer's disease.
His research aims to better understand how and why we age in order to develop therapies to counteract age-related function alterations occurring at the cell, tissue, and organ level, as well as to identify strategies to combat the development of conditions such as metabolic and neurodegenerative diseases, which are more common with advanced age.
Prior to joining URI in January 2020, Dr. Coppotelli completed his post-doctoral training at the Sinclair lab at Harvard Medical School and the Karolinska Institutet in Stockholm, Sweden. He received both his M.S. in biological science cum laude and Ph.D. in molecular endocrinology from the University of Rome.
Read a Q&A with Dr. Coppotelli.